2018/19 – 50 Best School Programs for Medical Billing and Coding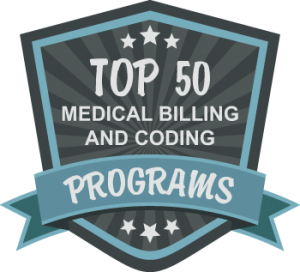 At one time or another, many of us have thought about what it would be like to join the medical profession. The reality is that it does not take years of schooling to become a vital part of the medical community. All over the United States, medical billers and coders are needed now, more than ever. This job comes with the convenience of being able to work independently and embark on a career that is growing by the day. That translates into job stability and competitive pay for years to come. It can also mean you have the option of working from home.
There is a lot that goes into the medical profession as it involves contributions from many different departments. Health information is one of the most important components of the medical field and that requires trained professionals to facilitate this information. Medical billers and coders are responsible for making sure that bills are precise, and that facilities and patients are both billed fairly.
Over the past few years, the number of medical billers and coders has remained on the rise throughout the United States. That has increased the competition for jobs and it has also increased competition when it comes to medical billing and coding education. Not all educational programs in this discipline are created equal. Some colleges have significantly surpassed the rest of the competition.
<!- mfunc feat_school ->
<!- /mfunc search_box_body ->
Sorting through the pros and cons of each program is time-consuming and it can also be a little overwhelming. That's why we have simplified that task by identifying each state's top medical and billing education program. We have done all the legwork so that you can sit back and take advantage of the results.
When selecting a top program in each state, there are several factors we considered. Our aim was to find a top-quality program in every state. Being accredited is an integral part of this process as a few organizations recognize the top medical billing and coding schools with accreditation. The American Health Information Management Association (AHIMA), the American Academy of Professional Coders (AAPC) and the Board of Medical Specialty Coding and Compliance (BMSC) all hand out medical billing and coding accreditations. We have selected schools that have met the requirements set by these respected organizations.
Another facet we considered is affordability. Some schools come with a high price tag, but a medical billing and coding education does not have to encumber you with a high amount of debt. There are private institutions that claim to back up their high costs, which is why we ranked these schools on overall quality. There are very affordable options and we also considered a school's financial aid policy when deciding upon the top school in each state. There is no reason medical billing and coding students have to pay the full price of tuition when aid, grants and scholarships are readily available.
Our goal is to point you to a program that will give you a greater chance of full-time employment once you graduate. Some schools have Medical Billing and Coding programs that award graduates a technical diploma while others award Technical Certificates, and Associate Degrees. The depth of the program is a telling sign of how prepared graduates will be when they begin their search for employment. We have also considered college's job assistance and job placement programs when putting together the list of top schools.
Each state selection was made because of the overall quality of the program. Here is a closer look at each medical and billing program that was chosen to represent their respective state.
---
---
ALABAMA
ALASKA
ARIZONA
ARKANSAS
CALIFORNIA
COLORADO
CONNECTICUT
DELAWARE
FLORIDA
GEORGIA
HAWAII
IDAHO
ILLINOIS
INDIANA
IOWA
KANSAS
KENTUCKY
LOUISIANA
MAINE
MASSACHUSETTS
MARYLAND
MICHIGAN
MINNESOTA
MISSISSIPPI
MISSOURI
MONTANA
NEBRASKA
NORTH CAROLINA
NORTH DAKOTA
NEVADA
NEW HAMPSHIRE
NEW JERSEY
NEW MEXICO
NEW YORK
OHIO
OKLAHOMA
OREGON
PENNSYLVANIA
RHODE ISLAND
SOUTH CAROLINA
SOUTH DAKOTA
TENNESSEE
TEXAS
UTAH
VERMONT
VIRGINIA
WASHINGTON
WEST VIRGINIA
WISCONSIN
WYOMING